Guess who's back, back again. Shiloh's back, back again…
I apologize for my lack of blogging, my intention when first starting this blog was that I would actually use it! I do plan to post more often and give heads up when to expect next entries. This is just a family update, the real fun blog posts will follow (hopefully) right after our move in late August! In spirit of our 6 year anniversary today and our 1 year anniversary for our 2nd official beta test, thus confirming our sweet son was growing, I thought it was time to share our last few months with you all! PREPARE FOR PHOTO OVERLOAD!
For those who have read my first post about my infertility journey thank you (if you haven't feel free to click the link to catch up!) There was so much outreach and support that followed our pregnancy announcement in October. It is still a very special and personal journey that we endured. Infertility is something I will always carry with me, regardless of my beautiful sons arrival. As for our fertility future, well.. we just don't know! If we have it our way our journey is far from over in hopes to continue to grow our family in the future, but for now it is on pause. (More details to come in future post)
I do still support those fertility goddesses everyday. Whether it's supporting my IVF sisters via Instagram community or fertility boards that I'm active in. My goal is to always reach out and support the families that have to go that extra mile to get their happy ending. Even those that don't necessarily need fertility treatment have come to me for a little trying to conceive boost! I'm always here to help! Please, don't be a stranger.
Since our announcement last year, my pregnancy continued (healthy for the most part).
Doctor appointments went smoothly, I stopped my injections at 10 weeks pregnant. Worked out finally after getting the clear at 18 weeks. Soaked in lots of naps and Netflix. In February I had an amazing baby shower.
Maternity photo's were a struggle!! I ordered at least 3 skirts, all of which came with flaws. So much time and money trying to wait until the last possible minute to take them because Jared wasn't going to be back until the last few weeks of my pregnancy. We scheduled them for 38 weeks and 2 days pregnant. Only to our surprise… the plans would soon change!
Jared was in Japan from September 12th until March 17th. My belly grew like crazy!
I was 36 weeks pregnant when hubby arrived back in the states. It was quite the adventure.. His homecoming date moved around 7 times AFTER we arrived in San Diego. Of course the one time I don't over pack I get stuck for 3 days out there. Finally he got on his plane to come home!

Happy homecoming, he showered after being stuck in an airport for a couple days then he headed to Arizona. Jared was only able to be home for 96 hours then head back to San Diego. We set up all of baby boys toys and gear (at least the stuff we had room for- currently still living with my parents). Took some pictures in case I didn't make it to our scheduled maternity session, then Jared went back, luckily he came home the next weekend.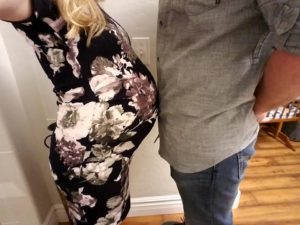 After Jared returned to California the second time, my doctor noticed serious swelling in my ankles, high blood pressure and I mentioned some rib pain that I had throughout my pregnancy but simply thought it was just…. being pregnant? My doctors made me pee in a bucket for 24 hours (to look for protein) not much later we discovered I had preeclampsia. If my preeclampsia is not treated very quickly it can lead to liver failure, cardiovascular issues, HELLP Syndrome (affecting red blood cells, blood clots etc) and can evolve into Eclampsia which could cause seizures or death. As for little baby boy, it could stop the blood flow to the placenta, baby would get less oxygen and food and be fatal for him as well.
The doctor told me to tell hubby to come home from California because baby is getting out very soon.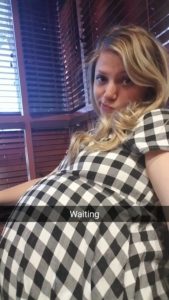 I was at 37w6d pregnant when we went to the high risk doctor. With this little bump in the road the doctors did warn me I would not make it to my maternity photos (tears forever!!) So luckily my Mama snapped a few before I had to see the doctor. An hour ultrasound and blood work later, they told me I will be induced. That escalated quickly! We went home, got the bumper sticker on the truck, double checked my over packed hospital bag, ordered Cheesecake Factory, totally cried hugging my dog goodbye, snapped a picture and headed over to the hospital.
Excitement and disbelief going on in my head. I just kept thinking about how I had 2 more weeks worth of naps and maybe go shopping by myself for the last time, in silence. But when does the plan ever work out? Especially in our case..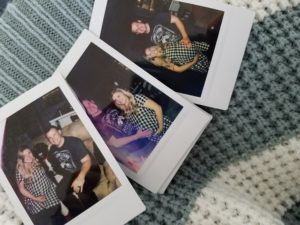 We arrived at the hospital, got into our room, handed out my uniquely written birth plan and braced ourselves (myself) for the medicine soon to come. 9pm, started that drop. 10pm, waiting for it to kick in.. 12:45am back ache starting, 2:45am, contractions too close together but not dilating enough, next stop, pitocin. 3:55am, had to walk around to slow down the contractions. 6am, Pitocin begins and pain meds.. 6:15am 3cm dilated doctor just broke water! 8am EPIDURALLLLLLLL. 11:55am, 4cm dilated… 2:50pm, 6cm… 5:43pm, 9 cm! Waiting for 9pm to push (Had to wait for doctor). 10pm It's go time!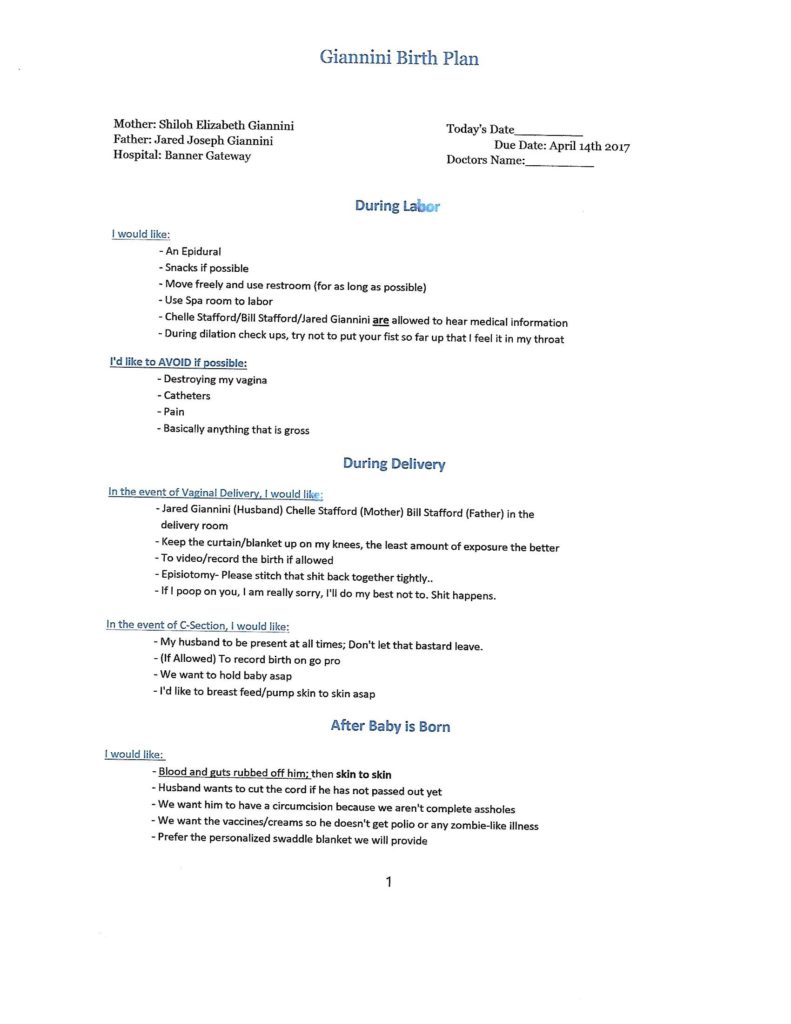 I pushed for an hour but we were having trouble, baby moved positions. We tried turning but it was not happening. We were told C-section is the best/only option. I was determined not to have an April Fool's baby, so I looked at the medical team and said you have 27 mins to get him out of me. Everyone hustled, got my meds in, took my ice chips away (grr) and wheeled me off! I had a terrible reaction with the meds they mixed with all the others I already had in my system. My body felt like it was crumbling. I couldn't breathe. Doctors told me I had to calm down because it would put too much stress on the process. I literally looked like I was having a seizure. I was also exhausted after 28 hours of labor and not sleeping… Flopped on the cutting table, tent went up and my favorite sentence of the day, "You're going to feel a tug". Umm WHAT. NO. I almost got ripped off the table, my husband and a large male doctor had to catch my shoulders. Suddenly, silence..
March 31st 2017 11:56pm Jackson William, 6lbs 14oz 20in long, let out his first sweet cry.
I was so out of it and with the reaction to the drugs I couldn't hold him for over 2 hours! But my baby daddy had him all wrapped up waiting for me to get my moment. 3 am, wheeled into my recovery room. Jared had a job interview at 5 am so he left at 4 am and I was with my new little man alone. Lots of visitors and tears to follow. On Night 5 at the hospital my preeclampsia evolved into eclampsia. All my blood work was off the charts. We had to do a magnesium drip (gross) and they tried to keep me longer… but Day 6 they were a little better so I got to go home with the baby. FINALLY!!
Lots of family and friends came by and snuggled the following weeks. I was recovering and a zombie. That did not stop us from getting my "Family/Maternity" photos! Jackson has been well protected with our black lab, Bear and my moms pups Loki and Hunter watching out for him. Jared had to go back to San Diego after getting 10 days off. About a month later Jared finally got out of the military and came home, for good! Well kind of… his new job will have him traveling the next 6 months but then, he will be home for good!
Jackson is such an amazing little human. Spitting image of his Daddy. Watching him grow makes me cry buckets upon buckets but it's also so exciting to watch him grow into his own personality. And the ridiculous facial expressions. We've had some awesome memories with our little man already! Those first 6 weeks are the hardest!! Breastfeeding is no joke. WOWZA. Once we established a routine it was much easier, and even better once Jared was home for good! He is amazing to fly with, we've had 4 plane rides since he's been born. He's a rockstar.
What's Next?!
Some exciting events ahead.. Jared is in Texas the next two weeks, then he will be traveling to Oregon, New York, California, Texas again, Oregon etc.. until January. Jared got an amazing promotion that will be sending him to the UK in October! As long as everything remains the same Jackson and I will be joining him for 2 weeks! We plan to fly into London, he will be working about 2 hours east so we will drive there and the weekend in between we plan to fly to Dublin! We are so so so excited! What an amazing opportunity.
We move in to our place in 2 weeks as well! Woohoo!!!!
I have lots of plans to work with my mom for her business, Recipe For Fitness. That will be a fun adventure getting to work with her!
I'm also planning to start doing photography again, I've done 2 shoots since the birth of Jackson, it was exhausting but it was also when he was fresh out of me. Haha. Finally getting enough energy and routine down to feel human again. Ready to get back out there!
Ever since bubs arrived I've had worse prego brain than ever! No joke, I just sent out his birth announcements… in August. Slacker mom moments. This post literally took 8 9 hours to do because baby J decided to be extra needy today. (I think he can sense that Daddy is gone).
I plan to blog way more, not just our updates but some parenthood post and whatever inspires my over exhausted brain! I promise!
See you soon!
Love,
Giannini Family